Dateline: Saturday, February 29, 2020
6:10 Pm, EST
Arrived at Carl's house to finish loading equipment, get in the van and get ready to travel to the nights' engagement.  It's not too cold as the winter is defiantly losing its grip on our geographical area.  Hasn't been a long, hard winter, but no matter, winter is when everyone hides indoors, and entertainment opportunities are more difficult and fewer to come by
6:20 Pm, EST
We pull out of the driveway and begin to discus the night ahead and status of our upcoming schedule.  All the uncertainty in the world effects the entertainment industry greatly.  If bar and restaurant owners could schedule events knowing how many people to include, life would be so much easier.  However, the reality is, that is not how things work. They don't know who will be there, and of course cannot know for sure how that applies to hiring entertainers.  For instance, this upcoming St. Paddy's Day falls on a Tuesday, and as such, no-one knows if it will be well attended or not.  If it's a warm, sunny day, they will be out in force; however, there is just no way to know.  So much uncertainty.
6:45 Pm, EST
We arrive at Bumper's Landing.
Bumper's is thee greatest gig we have ever had.  (and, remember, we have been playing close to fifty years now!). Always fun.  Always exciting; and always unpredictable.  The staff is incredible, the patrons are amazing and the owner always has our back.  This is the dream gig any/every band wants.
7:00 Pm, EST
After getting our bearings and a parking spot, its time to set up.  We walk in, greet our friends and begin the process of moving things around to make room for our gear.  We have to find a spot for the popcorn machine, (or bloody Mary bar, or whatever is being used that day/night) and move the big whiskey barrel so Carl and set up his keyboards.
We move in the gear and place it around our area, (so that we don't keep opening and closing the door.)  That way people don't get cold and or too annoyed with us before we can even begin to annoy them with our music.  After everything's inside, we begin to set up.
I unpack, set up the guitars and put them on the stands, as well as set up the speakers and light boxes.  When I connect my guitar cables and put my chair and bass pedals in place, I am done and ready to load the cases back into the van.
Meanwhile Carl sets up his keyboards, computers and everything together to the main PA.  While I am putting all the cases into the van, he goes through the checklist of powering everything on and making sure it is working and connected.
7:20 Pm, EST
Time to tune up all instruments and set volume levels.  This is by design; time built into our routine in case we have problems or mechanical failures to deal with.  If so, we have about thirty minutes to resolve them and still begin on time.  (This is very important to us.). We are never late and have never missed a job in half of a century of entertaining.
7:30 Pm, EST
With everything up and running, tuned and ready to rock n' roll, we have a bit of time to change into our performing attire and have a cocktail.  While its nothing fancy or too glam, but we do believe that we need to dress for our audience.  It is important that we show them the same amount of respect they show us by coming in to hear us play.
7:35 Pm, EST
Time to mingle.
We have lots of friends at Bumper's after being here for five years.  We know the staff and adore them all.  Their work ethic is second to none.  We find great kinship in that since it is one thing that we have always prided ourselves on.  There might be many more talented bands, but no-one works harder than we do.
No one.
With time well spent catching up with everyone's family, vacations and hopes for the new year, its time to grab a drink and begin the evening, officially.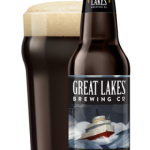 (Just so you know, we chose Edmund Fitzgerald, porter!)
8:00 Pm, EST
We begin our first set with a theme to make the night even more fun for everyone.  Since we were drinking beer named after the legendary vessel, we thought that we might just do an entire first set that tells that tale of life as a sailor.  We began with Jamaican Farewell, then played Southern Cross, The Gallant Ship and several more songs that stir vivid images of life on the waves.  But while all seafaring' men are courageous and stout, they will tell you that the stormiest and most treacherous waters are on these here Great Lakes!
8:50 Pm, EST
It is time to sing of the legendary ship: The Edmund Fitzgerald.  It was immortalized by Gordon Lightfoot so many years ago now, it seems as though it is part of our American folklore, and not a real event.  Alas, it is all true, every word.  Carl and I take this ballad seriously as well, as though somehow, if we do not do a good enough job singing it, its' ghosts would rise up and take our very souls!
More songs follow, but it's time to sing country, folk, rock and island tunes too.  We finish the first set and take stock of the night left ahead.
9:15 Pm, EST
Our first break is when we get a better chance to find out how everyone is doing.  Our job is not simply to play music, but to address the needs of the crowd.  Only we can make sure that the music that they would like to hear gets played.  To do that, we have to give the patrons an opportunity to let us know what that might be.
Tonight we had friends come back to see us.  Some regulars, some who we only see occasionally, and some who have come from great distances to share their night with us.  It is that connection that makes our entertaining meaningful as well as enjoyable!
9:35 Pm, EST
After time well spent canvasing the crowd for requests, we launched into our second set.  We heard a cry for more Beatles, more country and more of everything!
Each and every song was met with great delight from the appreciative audience.  Halfway in, Dan the singer man arrived.  Looks like we are going to play, For What It's Worth, by Buffalo Springfield.  We did, and he had his time to shine for his shiny new gal.  Ahhh, L'more!
10:45 Pm, EST
Break Time.
The second break gives us time to meet new people who have just arrived, and are currently giving us a hard time because we are on break.  (Some things never change). They have never heard us, and don't understand how two guys could be much of a band.  (Well, we've got no argument there.)
More requests in the hopper, and more tunes on the way.  Everyone is having a wonderful time tonight.  That is what it's all about.  The manager, Kim, is taking personal care of our treasured friends who have driven all the way from Alpena to see tonight's show.  We feel overwhelmed when people show us this level of appreciation.  What a night!
11:00 Pm, EST
The time is upon us to let loose the dogs and start to rock out the night.  Everyone's ready and in the mood for the classic party songs that signal the end of the evening is drawing near.  Sweet Caroline, Country Roads and Evil Ways, bring the crowd to boil as some dancers begin to cut a rug.
11:30 Pm, EST
We take a short, five minutes break to make sure that we have played all the songs people want to hear.  It's last call for tunes and time to bring this ship into port.
Wagon wheel, The Dance, Can't Help Falling In Love and Love The One You're With, put the finishing touches on another memorable evening near the waters edge.  Remember, the music is the reason.  We just make it happen.
12:15 Am, EST
With a few extra songs, we finish the night.  Smiles were everywhere as the echoes of our last notes reverberate throughout the bar.  People were meandering out, as I bring the cases back inside so that our gear can be loaded one more time.
Carl disconnects everything while I dismantle the speakers, lights and my gear.  After putting the guitars and equipment back into the cases, it is time to load up and say good-night.
12:52 Am, EST
Time to get paid and to let our fans know when we will be back again.  After putting everything back as it was before we arrived (Popcorn machine and barrel), it was time to head out, knowing the patrons were pleased with their evening.
It is important to us to thank the staff for all their hard work as well.  We know all too well how hard they labor doing things above and beyond that no one will ever see or know.  They do it, because it is the right thing to do.  As part of the Bumper's family, that's just what you do.
1:30 Am, EST
The Three Blind Mice Irish Pub.  We decided to stop in at The Mice to see some of our friends.  Coming through the door, we were lucky enough to find an entire table of people that we had just played for at Bumper's.  They were having a nite cap and asked us to join them.  After listening to the solo act, we said our goodbyes and headed back out.
2:15 Am, EST
Time to unload the van and put the gear away for another week.  Some downstairs in the basement, some in the garage.  It's actually a good way to unwind and talk about how the evening went, and what event was on the horizon.
2:30 Am, EST
Leave Carl's and head home.  About this time is when I eventually smile quietly to myself, feeling the rewards of a good nights' work.  We never mind the hard work involved with being entertainers.  We do not take it for granted.  We look around and see so many others that wish they could do what we do, but simply do not posses the talent or opportunities.  Sadly as well, there are some artists that cannot work within the parameters of a scheduled job.  We know we are very lucky.  I guess, it's easy to sing when you live a charmed life.
3:30 Am, EST
Sleep.  (And nightmares of being on a big ship, in a storm, on the lake they call, Gitche Gumee.)
Rb
---